Please register early, as space is limited and registration will close when we reach 180 participants.
Registration fees are used to cover your lodging, meals and other on site workshop costs. Please see the workshop Logistics page for more details on costs and travel.
The 2019 OCB Summer Workshop will be held June 24-27, 2019 in Woods Hole, MA.
2019 OCB Workshop Plenary Sessions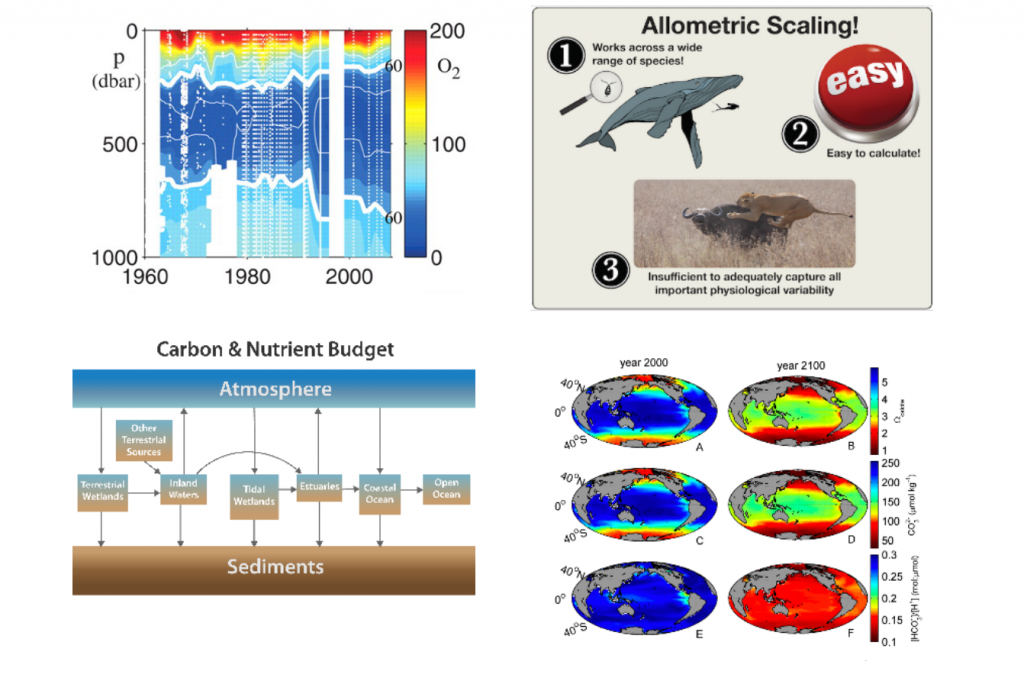 Anthropogenic changes in ocean oxygen: Coastal and open ocean perspectives (Monday)
Chairs: Julie Granger, Adam Martiny, Alyson Santoro, and Ben Twining
Session Description: Warming waters, shifting circulation and ventilation, and coastal eutrophication are driving changes in dissolved oxygen levels in the coastal and open oceans. These changes have impacts on carbon and nutrient biogeochemistry, as well as the health of pelagic and benthic communities. At the same time, naturally occurring seasonal and interannual variability in dissolved oxygen complicates discerning the magnitude and even the sign of long term trends. This session will explore changes in oxygen concentrations observed across a range of environments (coastal to open ocean), while considering a range of physical, biological, and anthropogenic drivers of these changes, as well as their impacts.
Speakers: Andreas Oschlies (GEOMAR), Matthew Long (NCAR), Samantha Siedlecki (Univ. Conn), Malcolm Scully (WHOI), Jerry Tjiputra (UniResearch, Norway) and Mariona Claret (U. Washington), Jeremy Testa (UMCES), Denise Breitburg (Smithsonian Institute)
---
Approaches and challenges to understanding biogeochemical cycling across the land-ocean aquatic continuum (Tuesday)
Chairs: Marjy Friedrichs, Eileen Hofmann, Raleigh Hood, and Maria Tzortziou
Session Description: Despite their small area, the network of rivers, estuaries, and continental shelf waters that comprise the land-ocean continuum are central to global biogeochemical cycling, which has significant implications for ecosystem services such as carbon sequestration. Changes in land use and the effects of climate change are altering biogeochemical cycling across this interlinked continuum, often with detrimental effects, manifested as hypoxia and coastal acidification, for example. The ability to predict outcomes resulting from these changes and to develop scenarios for projections of possible future states is limited by understanding of linkages across this continuum. This session is intended to provide assessments of the current state of understanding of biogeochemical cycling across the land-ocean continuum, evaluations of current and needed approaches for observing and modeling system components, assessment of fluxes to the coastal ocean, and discussions of the challenges of development of future state scenarios.
Speakers: Xiao Liu (Princeton University and NOAA GFDL), Tom Bianchi (Univ. Florida), Iris Anderson (VIMS), and more speakers to be announced soon!
---
Calcification and the carbon cycle (Wednesday)
Chairs: Andrea Fassbender and Jessica Cross
Session Description: 2018 was a year of notable discovery regarding ocean carbonate chemistry, prompting community reflection on important aspects of the marine carbon cycle that are not yet fully understood. One of the major findings relates to changing seasonal cycle amplitudes for carbonate system parameters (e.g., pCO2, [H+], and saturation state) caused by rising ocean temperatures and anthropogenic carbon concentrations. This phenomenon has been anticipated and hypothesized in the literature for over a decade; however, observational evidence at a global scale was just documented for pCO2 in 2018. Complementary modeling work in the last year has also highlighted some of the implications for marine organisms that may be sensitive to pH and calcium carbonate saturation states in both coastal and open ocean regions. In recognition of these findings, this session will consider linkages between ocean chemistry and marine calcification from observational and modeling perspectives. This topic is particularly relevant due to an ongoing discussions in the community regarding which component of the carbonate chemistry (e.g., dissolved inorganic carbon and [H+] vs. saturation state) drives calcification.
Speakers: Andrea Fassbender (MBARI), Lennart Bach (GEOMAR/IMAS Hobart), Bernard Boudreau (Dalhousie), Weifu Guo (WHOI), Kristen Krumhardt (NCAR), George Waldbusser (OSU)
---
Carbon cycle feedbacks from the seafloor (Wednesday)
Chair: Clare Reimers
Session Description: The seafloor from shallow coastal regimes to the hadal ocean is an interface where carbon is cycled between dissolved and particulate forms, and organic and inorganic pools. This cycling can be the basis of major ecosystems and critical to the biogeochemical cycling of other elements. This session will focus on recent advances in approaches for characterizing the dynamics of benthic carbon cycling and fluxes and on the consequences of these processes. Topics will include seasonal assessments of benthic carbon metabolism within nearshore and shelf regions, the effects of anthropogenic CO2 invasion into the ocean on calcification and carbonate dissolution in sediments, the effects of warming on gas hydrate destabilization, and carbon mineralization in ocean trenches.
Speakers: Clare Reimers (OSU), Kristen Fogaren (Oregon State Univ.), Amelie Berger (Univ. Virginia), Ronnie Glud (Univ. Southern Denmark), Kathryn Sparrow (FSU), Olivier Sulpis (McGill Univ.)
---
The effect of size on ocean processes (allometry) and implications for export (Thursday)
Chair: Amy Maas
Session Description: Currently many major models use a suite of allometric relationships to describe and simplify complex interactions in natural systems and predict biogeochemical cycling. This session will describe current effective marine applications of allometry at a range of scales (organismal to ecosystem), but will also present research on the physiology and ecology of oceanic groups that highlight when allometry fails to constrain important variation. We will discuss  a suite of alternative/supplementary "master traits" that appear to be informative, as well as the feasibility of including these in modeling efforts.
Speakers: Amy Mass (BIOS), Nick Nidzieko (UCSB), Anand Gnanadesikan (The Johns Hopkins Univ.), Karen Stamieszkin (VIMS), Ken Andersen (Technical University of Denmark)