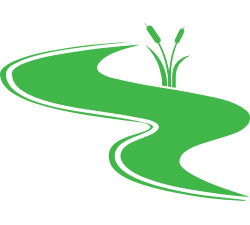 Relative to their surface area, continental margins represent some of the largest carbon fluxes in the global ocean. Important processes that affect carbon fluxes in these systems include  terrestrial inputs (rivers, groundwater), air-sea exchange, biological transformation (e.g., primary production, respiration), sediment burial, and lateral transport. Continental margin systems also experience human impacts that affect carbon cycling, including coastal dead zones (hypoxia), nutrient over-enrichment (eutrophication), harmful algal blooms, acidification, overfishing, and tidal wetland loss due to sea-level rise and development. The OCB community is interested in quantifying how carbon fluxes in the land-ocean continuum (land-rivers-tidal wetlands-estuaries-coastal ocean-open ocean) contribute to regional and global carbon cycles and in characterizing the key processes underlying the cycling and fate of carbon and nutrients in continental margin systems.
Click to see posts related to Estuarine and Coastal Carbon Fluxes
---
Activities
Coastal CARbon Synthesis (CCARS) (2008-2015)
NASA Arctic-COLORS (Arctic-COastal Land Ocean inteRactions)
NOAA CoastWatch/OceanWatch Program
Final coastal carbon synthesis community workshop (2014)
Gulf of Mexico coastal carbon synthesis meeting (2013)
East Coast Regional Team Meeting (2012)
OCB/NACP Coastal Synthesis Workshop (2010)
OCB Scoping Workshop Terrestrial and Coastal Carbon Fluxes in the Gulf of Mexico (2008)
---
Products & Publications
Benway, H., Alin, S., Boyer, E., Cai, W.-J., Coble, P., Cross, J., Friedrichs, M., Goñi, M., Griffith, P., Herrmann, M., Lohrenz, S., Mathis, J., McKinley, G., Najjar, R., Pilskaln, C., Siedlecki, S., Smith, R. (2016). A Science Plan for Carbon Cycle Research in North American Coastal Waters. Report of the Coastal CARbon Synthesis (CCARS) community workshop, August 19-21, 2014, Ocean Carbon and Biogeochemistry Program and North American Carbon Program, 84 pp., DOI 10.1575/1912/7777.
Benway, H. M., Coble, P. G. (Editors) (2014). Report of The U.S. Gulf of Mexico Carbon Cycle Synthesis Workshop, March 27-28, 2013, Ocean Carbon and Biogeochemistry Program and North American Carbon Program, 67 pp.
Benway, H. M. (2011). Quantifying the coastal contribution to the North American carbon budget: A Coastal Interim Synthesis Workshop, San Francisco, California, 11-12 December 2010. Eos Trans. American Geophys. Union 92 (23).
Coastal Blue Carbon: Methods for assessing carbon stocks and emissions factors in mangroves, tidal salt marshes, and seagrass meadows (2014)
Hales, B., Wei-Jun Cai, B. Greg Mitchell, Christopher L. Sabine, and Oscar Schofield [eds.] (2008). North American Continental Margins: a synthesis and planning workshop. Report of the North American Continental Margins Working Group for the U.S. Carbon Cycle Scientific Group and Interagency Working Group. Washington, DC: U.S. Carbon Cycle Science Program.
Liu, K.-K., Atkinson, L., Quiñones, R., Talaue-McManus, L. (Eds.) (2010). Carbon and nutrient fluxes in continental margins: A global synthesis. Global Change - The IGBP Series ISSN 1619-2435, Springer-Verlag, Berlin Heidelberg., 744 pp.