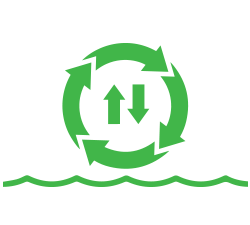 The ocean is the largest sink for anthropogenic carbon dioxide (CO2), absorbing ~25% of the CO2 emitted annually, which offsets rising atmospheric CO2 levels and associated warming. An important area of research in OCB involves careful monitoring (e.g., geochemical tracers) and prediction (e.g., ocean and earth system models) of how the ocean's capacity to absorb carbon is changing, which has serious implications for the global carbon cycle and climate. The OCB community is also interested in studying the key physical, chemical, and biological processes that influence ocean carbon uptake and storage.
Click to see posts related to Ocean Carbon Uptake and Storage
---
Activities
Joint OCB/US CLIVAR Workshop Ocean Carbon Hot Spots (2017)
Joint OCB/US CLIVAR Workshop Ocean's Carbon and Heat Uptake: Uncertainties and Metrics (2014)
Researcher Workshop Key Uncertainties in the Global Carbon-Cycle: Perspectives across terrestrial and ocean ecosystems (2013)
Scientific Working Group Oceanic carbon uptake in the CMIP5 models (2012-2015)
Scientific Working Group Heat and carbon uptake by the Southern Ocean (2012-2015)
---
Products & Publications
Feely, R. A., L. D. Talley, J. L. Bullister, C. A. Carlson, S. C. Doney, R. A. Fine, E. Firing, N. Gruber, D. A. Hansell, G. C. Johnson, R. M. Key, C. Langdon, A. Macdonald, J. T. Mathis, S. Mecking, F. J. Millero, C. W. Mordy, C. L. Sabine, W. M. Smethie, J. H. Swift, A. M. Thurnherr, R. H. Wanninkhof, M. J. Warner (2014): The US Repeat Hydrography CO2/Tracer Program (GO-SHIP): Accomplishments from the first decadal survey. A US CLIVAR and OCB Report, 2014-5, US CLIVAR Project Office, 47 pp.
Russell, J., H. Benway, A. Bracco, C. Deutsch, T. Ito, I. Kamenkovich, and M. Patterson (2015): Ocean's Carbon and Heat Uptake: Uncertainties and Metrics. US CLIVAR Report 2015-3, 33 pp.
---
Outreach & Communication
Ocean Carbon and Biogeochemistry Program (2015). Temporal and Spatial Perspectives on the Fate of Anthropogenic Carbon: A Carbon Cycle Slide Deck for Broad Audiences with explanatory notes. Contributors: S. Khatiwala, T. DeVries, J. Cook, G. McKinley, C. Carlson, H. Benway. doi:10.1575/1912/7670.