Synthesis and intercomparison of ocean carbon uptake in CMIP6 models Working Group and Workshop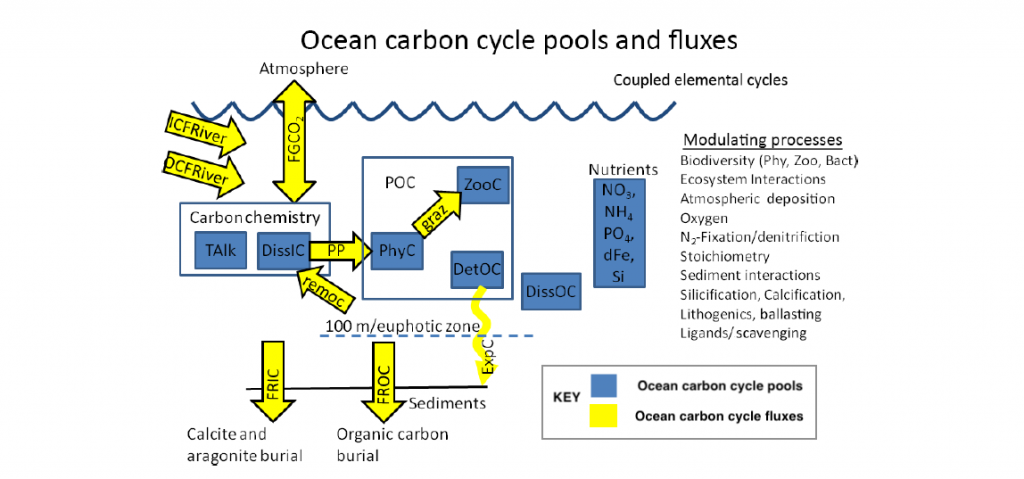 Background and Motivation
Climate and Earth System Modeling Centers around the world are currently preparing their state of the art models to participate in the 6th phase of the Coupled Model Intercomparison Project, which will inform the International Panel on Climate Change (IPCC) 6th Assessment. Each center is planning to perform ocean carbon experiments in the spring/summer/fall 2018 timeframe. This activity will complement existing coordination of European modeling centers by building lines of communication between the US observational and analysis communities and the various contributing modeling centers in the US (NASA/GISS, NCAR/CESM, and NOAA/GFDL), Canada (CCCMA), and Australia (CSIRO).
Objectives
A community workshop will be held December 8-9, 2018 in Washington, DC just before the Fall 2018 American Geophysical Union (AGU) Meeting. The objectives of this workshop are as follows:
Summarize high profile CMIP5 Ocean Carbon Uptake analyses and challenges, as well as the planned suite of CMIP6 experiments
Summarize new observational constraints, including GLODAPv2, SOCAT, SOCCOM, GO-SHIP, community observational synthesis efforts such as Obs4MIPs, ocean carbon inversions, and atmospheric observations of CO2 and oxygen
Modeling center reports on model formulation and preliminary analysis of simulated regional and global patterns in heat/carbon/tracer uptake in CMIP6 experiments
Discuss mechanisms of heat/carbon/tracer uptake differences across models and observations towards linking physical and biogeochemical drivers and their impact
Discuss tools and techniques that can lower barriers to analysis
PIs: John Dunne (NOAA/GFDL), Scott Doney (Univ. Virginia), Matthew Long (NCAR), Anastasia Romanou (NASA/GISS), Galen McKinley (Columbia/LDEO)