Upcoming workshop: Ocean nucleic acids 'omics intercalibration and standardization funded by the US Ocean Carbon Biogeochemistry (OCB) program. The goal of this workshop is to develop a focused marine microbial nucleic acid (na) 'omics intercomparison and intercalibration effort to enhance future field programs that integrate methods such as molecular barcoding, metagenomics and transcriptomics to understand the functioning of prokaryotic and eukaryotic microbes in the ocean. Initial efforts are guided, in part, by the success of the marine geochemistry community in implementing programs like GEOTRACES.
This workshop is cosponsored by OCB and the generosity of the Simons Foundation.
Applications are closed.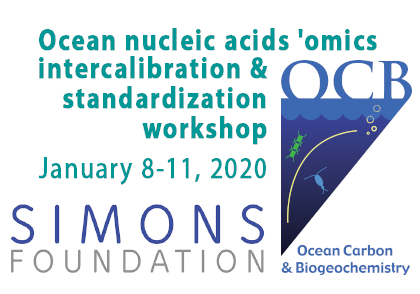 Dates & Logistics
Dates: January 8-11, 2020 (arrival on Jan 8, full workshop days Jan 9-11)
Location: University of North Carolina Chapel Hill
Participants: Ocean Nucleic Acids Participant List
Costs: All participants will have their travel costs offset and accommodation covered by OCB.
Travel from the airport to hotel: The best way to get from the airport to the hotel is Uber or Lyft. It is about a 25 min drive. Alternatively, there are taxis available at the airport (just note that they are about 2x the cost of an Uber or Lyft).
Daily travel from hotel to workshop venue: The hotel is about a 5-10 minute walk from the meeting venue (0.4 miles).
Agenda
Nucleic Acids 'Omics Standardization and Intercalibration (S&I) Workshop 
Wednesday January 8: Travel/Arrivals
Day 1 (Thursday, January 9): Overview and Brainstorming Sessions
09:00 – 09:30 Introduction and goals of meeting – organizing committee introduction
- BioGeoScapes as an impetus for improving S&I of 'omics. Summary of outcomes of previous community efforts directed at setting the stage for 'omics intercalibration.
- Cross-cutting need for standards and intercalibration (S&I) across microbiome research. This is not an issue for just biological oceanography, but we can help to drive best practices across divergent fields.
- Outline tractable goals for this 3 day workshop
a) identify key areas to address for improving S&
b) minimal requirements for S&I
c) discuss what it would take to incorporate 'omics into large scale oceanographic effort
d) identify areas with community consensus
c) develop outline of a proposal for a community-wide S&I effort
- Final outcomes will be workshop report and outline for proposal.
09:30 – 10:30 Presentations highlighting lessons learned from previous relevant S&I efforts in the oceanographic community
9:30-9:45:  Alyson Santoro (UCSB): History and overview of GEOTRACES efforts to standardize and intercalibrate trace metal measurements--more on history and how the intercalibration cruises were run.
9:45-10:00: Paul Berube (MIT): History and overview of BIOGEOTRACES overview (how it got started who has been involved, big picture)
10:00-10:30 Scott Jackson (NIST): NIST efforts on S&I for microbiome research spend 25% of talk talking history of broader field with human microbiome and other communities
10:30-10:45 Break
10:45- 12:00 Presentations highlighting the need for quantitative measurements in molecular data
10:45 -11:00 Tatiana Rynearson (URI): Amplicon sequencing S&I
11:00-11:15 Scott Gifford (UNC): Prokaryotic Metagenomics & Metatranscriptomics S&I.
11:15-11:30 Andy Allen (UCSD): Eukaryotic Metagenomics & Metatranscriptomics S&I
11:30-11:45 David Emerson (Bigelow) Development of internal/external standards for 'omics intercalibration
11:45-12:00 Craig Carlson (UCSB): Comparison of field sample collection methods and relationship to data output
12:00-12:30 The relationship of bioinformatics to S&I 
Harriet Alexander (WHOI) Bioinformatics for assessing sample intercomparison (20 min talk 10 mins for questions)
12:30 – 2:30 Lunch Break - On campus - explore

14:30-16:00 Musical chairs for discussing critical issues for S&I. (All)
For each broad topic (– e.g. sampling/extraction, standard reference materials, library construction, etc.), there is a table, easel pad and facilitator. Participants arrange themselves at the tables (e.g. 4-5 people per topic). There is a 10 minute discussion period during which the facilitator keeps track of ideas on the easel pad. Then people switch tables and start a new round of discussion where they can add their own ideas or iterate on those from the previous group. The idea is to break people up into smaller groups to facilitate conversation and get input from everyone. At the conclusion, the facilitators will give a 5 minute overview of what was discussed.
16:00 – 17:00 Group discussion on critical S&I issues from pre-workshop solicited information and the musical chairs activity to identify:
- Key topics and methods that need to be addressed in the workshop (e.g. we might identify additional areas beyond those proposed by the organizing committee).
- Priority list of topics. While all are important, which ones would give the greatest impact to the field relative to the effort required?
17:00 – 18:00 Reception: Group time to socialize and continue discussing the topics brought up in the brainstorming sessions.
18:00–19:00 Organizing committee only - meeting to review progress
---
Day 2 (Friday, January 10): Working Groups
09:00 – 09:30 Overview of previous day outcomes by organizing committee and description of Day 2 activities.  Present list of the critical topics/methods identified during the previous day's session and a selection of the key unresolved issues. The goal of the second day is to get deeper into the weeds of S&I issues for nucleic acids 'omics analyses. Participants will use the previous day's brainstorming session as an initial framework, but get further into the details. Focus should be on the methodological details of S&I, what has worked or has not worked in the past, priority methods/issues to address first, and broadly thinking about how to standardize/intercalibrate 'omics data. Generally, planning for an actual S&I activity will be reserved for Day 3.
09:30 – 11:30 Morning breakout session DNA theme
- Sampling and extraction for DNA (talk about metatranscriptomes in afternoon)
- Eukaryotic metagenomics
- Archaeal/Bacterial metagenomics
- Viral metagenomics
- Amplicon sequencing
-Mock communities and internal standards.
11:30 – 12:30 Write-ups for morning breakout sessions (post on Google Drive)
12:30 – 14:00 Lunch Break (catered)
14:00 – 16:00 Afternoon breakout sessions RNA theme
- Sampling and extraction for RNA (talk about metagenomes/amplicons in morning)
- Eukaryal metatranscriptomics
- Archaeal/Bacterial metatranscriptomics
- Viral metatranscriptomics
- Biases associated with library construction and sequencing platforms. What happens when protocols/platforms change over time?
- Bioinformatics (details on pipelines, appropriate cutoffs, statistics, and making tools broadly accessible to researchers with varied bioinformatics experience).
16:00 – 17:00 Write-ups for afternoon breakout sessions (post on Google Drive)
17:00 – 18:00 Overview from each breakout session facilitator on key outcomes.
18:30 – 20:30 Organized Dinner
20:30 – 21:30 Organizing committee only -  meeting to review progress
---
Day 3 (Saturday, January 11): Conceptualizing a Proposal for a Marine Nucleic Acids 'Omics S&I Activity
09:00 – 09:30 Brief overview from organizing committee on outcomes from working groups.
Highlight the priorities to address for intercalibration. Preview of Day 3 activities which will include discussion on how S&I for BioGeoScapes is envisioned as well as group activities to outline a proposal for community-wide S&I activity.
09:30 – 10:30 BioGeoScapes S&I.
Think of this as the inaugural meeting of the BioGeoScapes S&I Committee. At this stage, it's appropriate to start thinking about how compliance with S&I might be assessed for an international program. The accomplishments of GEOTRACES are probably the starting point, but would need to be tailored. How much flexibility should we build into the program? How should we deal with technological advances in sequencing?
10:30 – 12:00 Group discussion on drafting a proposal for an 'omics S&I activity.
Some questions/topics that we may want to address
- Participants (invited or solicited)?
- What is the scope of this activity?
- Study sites. Coastal and/or open ocean? HOT, BATS, SPOT, MVCO, Saanich Inlet, PAPA? Multiple sites for both coastal and open ocean, or limit to 1 open ocean
- Priority topics to address. What is feasible? What is a bit pie in the sky?
- Sequencing needs
- Funding sources
- Next steps for publicizing effort, follow up survey to community to gather information about implementing standardization
- Information forwarded to BioGeoScapes/GoSHIP planning
12:00 – 13:00 Catered lunch 
13:00 – 17:00 Working groups to draft outline for key sections of the proposal.
About 3-4 working groups (~5-7 people per group) that are each focused on an entire workflow or specific S&I question to address (e.g. rather than split up sampling, extraction, metagenomics and bioinformatics into separate working groups. Keeping topics together will build a cohesive activity from start to finish).
- Amplicon sequencing
- Metagenomics
- Metatranscriptomics
- Instrument/library biases
17:00-18:00 Wrap up of meeting, homework, etc.
Working dinner (organizing committee only)
Summary/Description
This OCB activity is aimed at developing a focused marine microbial nucleic acid (na) 'omics intercomparison and intercalibration effort. Increasingly, field programs of relevance to the OCB community include major components that use high-throughput molecular barcoding, metagenomics, and transcriptomics (nucleic acid 'omics or na'omics herein) to understand the functioning of prokaryotic and eukaryotic microbes in the ocean. Recent examples of these programs include integration of microbial sampling at ocean time-series sites, the EXPORTS field campaign, and the international BioGEOTRACES program, which couples these measurements with ocean chemistry in conjunction with GEOTRACES cruise sampling. A pressing challenge for both our community and the broader microbiome research community is the need for more standardization and intercalibration to facilitate comparison between na'omics data (Nayfach et al. Cell. 2016 Aug 25; 166(5): 1103–1116; Stulberg et al. Nature Microbiology 2016. Article number: 15015). These issues were highlighted as a critical need at a recent OCB-supported workshop held in November 2018 to discuss the next wave of potential international field programs (Biogeoscapes) that would tightly couple ocean chemistry sampling with na'omics measurements. To ensure the success of this and other such programs, we seek to bring together experts and stakeholders in a small workshop in order to identify a path towards na'omics standardization and intercalibration solutions.
We envision developing a series of recommendations around the following issues to be tested in future intercalibration activities.
Sample biomass collection and nucleic acid preservation for downstream analysis
Extraction protocols for nucleic acids
Addition of standard reference material to nucleic acid isolation protocols
Isolation methods unique to RNA
Sequence library construction
Considerations unique to barcoding methods
Integration of bioinformatic considerations
Read or download the activity proposal (PDF)