SCIENTIFIC BACKGROUND
The biological pump transports carbon to the deep ocean, and our understanding of this process has greatly improved over the last decade, from a traditional view focused exclusively on plankton sinking, to a more holistic view which includes mixed layer pumps, seasonal lipid pumps and the contribution of fish to carbon transport (Boyd et al., 2019). The biological pump is represented in Earth System Models and thus has a role in climate projections. The biological pump  can remove carbon from the surface ocean, whilst also recycling carbon and other nutrients throughout the ocean depths, which eventually feeds back to surface ocean productivity. A lack of research on trophic levels beyond plankton means we do not have the data to parameterise higher trophic levels in high resolution, global biogeochemical models. Yet a paper published by the 'Towards a better understanding of fish contribution to carbon flux' OCB working group led by Grace Saba (Saba et al., 2021) found that fish contribute 16 % (1.5 Gt C yr-1) to total gravitational carbon sink, via faecal pellets and deep respiration (Fig. 1). Clearly fish and other trophic levels beyond plankton (e.g. krill, salps, jellyfish) could have important feedbacks on the climate. But data and thus our understanding of the complex feedbacks and their temporal and spatial variation is sparse.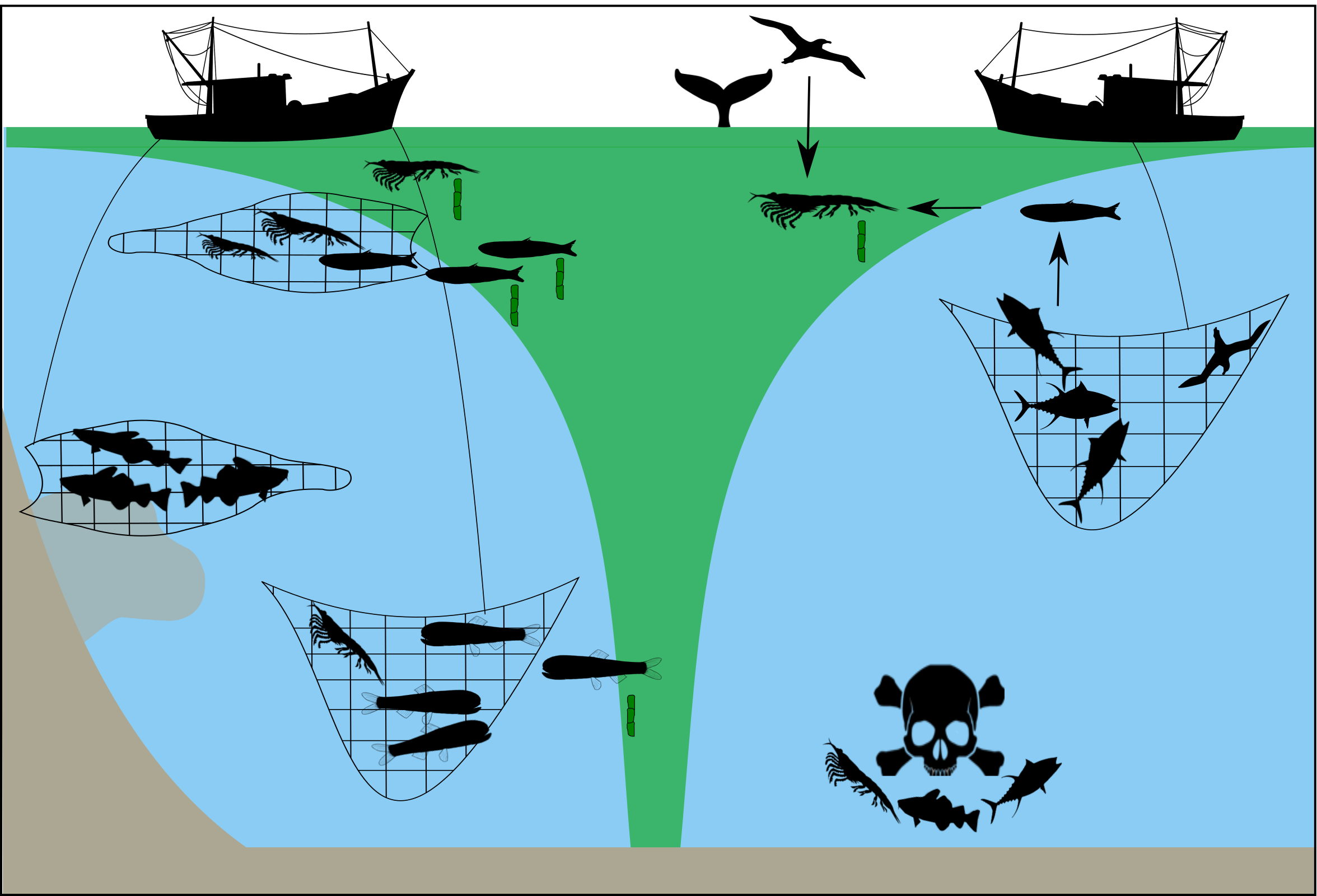 Fig. 2. Direct and indirect impacts of fishing to the carbon sink. Phytoplankton (green shading in the surface) stimulate fish biomass production and the export of carbon out of the upper ocean, of which ~ 1 % sinks to the deep ocean. The carbon sink is enhanced by fertilising species and those egesting fast-sinking carbon-rich faecal pellets. Direct impacts of fishing (left) include harvesting pellet-producing species, removing species living near the seabed, sediment disturbance from groundfish harvesting, removing mesopelagic species and finally reducing large falls of dead organic matter to the deep sea and sediment. Indirect impacts (right) include causing trophic cascades impacting communities that sink carbon, removing prey items for fertilizing species (e.g. mackerel or krill that feed seabirds), killing predators (e.g. seabirds) that may otherwise fertilise the oceans and help to maintain a balanced food web, and finally  the release of discards which could cause localized dead zones. From Cavan & Hill 2022.
In addition to climate-change associated  changes in the distribution, abundance, and diversity of higher level organisms, industrial fishing and whaling has been changing the composition of marine ecosystems for decades and causing the collapse of some fish stocks. Much of the research on fishing impacts focuses on the harvested species themselves, although trophic cascades caused by fishing can affect the entire foodweb, including plankton (Fig. 2). This means fishing is likely to impact the carbon sink by causing 1) changes to the plankton gravitational sink, and 2) a loss of sinking carbon from harvested fish (Cavan and Hill, 2022). The loss of sinking fish carcasses due to harvesting and the CO2 emitted by fishing vessels alone has released 0.73 Gt CO2 since the 1950s (Mariani et al., 2020), whilst industrial exploitation of fish stocks is thought to have halved fish biogeochemical cycling with impacts on primary production and the carbon sink (Bianchi et al., 2021) (Fig. 3). Given our lack of knowledge on the fish contribution to the carbon sink as described above and the complexity in predicting trophic cascades, quantifying the total potential consequence of industrial fishing on the biological pump is not trivial. Nonetheless progress has been made on understanding the contribution of a non-fished group, the mesopelagic fish to the carbon sink.
Ideally if we are able to quantify how fishing changes the biological pump, and come up with monitoring solutions to keep track of fishing impacts, then the protection of the biological pump could be implemented into fisheries policy. This is a delicate task though, as aquatic food sources could be key in ending world hunger (Golden et al., 2021), and there are a myriad of social and economical factors to consider as fishing supports the livelihoods of millions of people worldwide. The integrative topic of fish, fisheries, and carbon has been gaining wide interest quite rapidly over the past few years, but the diverse range of experts have not yet convened to comprehensively discuss and address the effect of fishing on potential carbon sequestration, policy considerations, and potential repercussions on socioeconomics. This proposed workshop aims to do just that.
References 
Bianchi, D., Carozza, D., Galbraith, E., Guiet, J., and DeVries, T. 2021. Estimating global biomass and biogeochemical cycling of marine fish with and without fishing. Science Advances, 7: eabd7554. American Association for the Advancement of Science. https://doi.org/10.1126/sciadv.abd7554.
Boyd, P. W., Claustre, H., Levy, M., Siegel, D. A., and Weber, T. 2019. Multi-faceted particle pumps drive carbon sequestration in the ocean. Nature, 568: 327–335. https://doi.org/10.1038/s41586-019-1098-2.
Cavan, E. L., and Hill, S. L. (n.d.). Commercial fishery disturbance of the global ocean biological carbon sink. Global Change Biology, In review.
Golden, C. D., Koehn, J. Z., Shepon, A., Passarelli, S., Free, C. M., Viana, D. F., Matthey, H., et al. 2021. Aquatic foods to nourish nations. Nature. https://doi.org/10.1038/s41586-021-03917-1.
Mariani, G., Cheung, W. W. L., Lyet, A., Sala, E., Mayorga, J., Velez, L., Gaines, S. D., et al. 2020. Let more big fish sink: Fisheries prevent blue carbon sequestration—half in unprofitable areas. Science Advances, 6: eabb4848. http://advances.sciencemag.org/content/6/44/eabb4848.abstract.
Saba, G. K., Burd, A. B., Dunne, J. P., Hernández-León, S., Martin, A. H., Rose, K. A., Salisbury, J., et al. 2021. Toward a better understanding of fish-based contribution to ocean carbon flux. Limnology and Oceanography, n/a. John Wiley & Sons, Ltd. https://doi.org/10.1002/lno.11709.