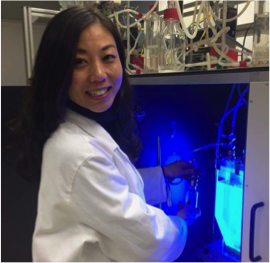 Dr. Qian (Lydia) Li is a postdoc researcher at the Center for Microbial Oceanography: Research and Education (C-MORE) of University of Hawaiʻi at Mānoa. She received her PhD at Xiamen University (China) and spent one year as a postdoc at the University of Amsterdam before joining Steward's lab at C-MORE. Her research interests focus on the interactions between nutrient and light limitation of phytoplankton and currently, she is working on an NSF-funded project investigating the three-dimensional ecological interactions among a mixotrophic flagellate, its prokaryotic prey, and an ingestible giant virus.
This is my second time attending GRC and it's still my favorite scientific meeting. What was different this time was that I also joined the GRS, which provided a great opportunity to meet and mingle with many other young scientists just like me. I love the fact that GRCs aim and always manage to bring a diverse community of scientists together, young and senior, female and male, from developing and developed, eastern and western countries. Besides the diversity, I also appreciate the gender equity among all the participants. In fact, I volunteered to host the first "Power Hour" forum for this GRC (Ocean Biogeochemistry) together with Dr. Christelle Not from Hong Kong University. It has turned out to be a big success, attracted a large number of attendees with both female and male scientists. Everyone was involved in the discussion and strategized how to build a gender-friendly work environment and promote professional growth of female scientists. I have a summary of it if anybody reading this is interested. Overall this GRS/GRC has been a wonderful experience that has also provided a great deal of scientific inspiration. I can't thank OCB enough for supporting and providing me the travel funds. Aloha and Mahalo!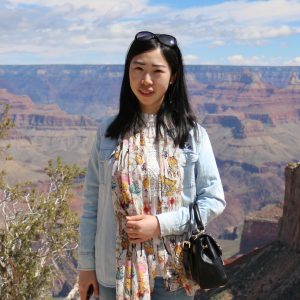 Pingping Qu is a fifth-year Ph.D. candidate in Marine Biology and Biological Oceanography at the University of Southern California. She works in David Hutchins's lab and her studies focus on the responses of important phytoplankton groups, such as diatoms and diazotrophic cyanobacteria, to climate change. In addition to conducting lab incubations, she also recently participated on a research cruise in the North Atlantic Ocean focused on diazotrophs.
I really enjoyed the 2018 Gordon Research Conference (GRC) on Ocean Biogeochemistry in Hong Kong. The conference and seminar provided excellent opportunities for early career scientists to communicate with each other and more experienced scholars. I learned a lot from the talks, poster sessions and the "power hour". This experience helped me build up a big picture for my research. I am very thankful to all the supporting organizations and people that contributed to the conference. I also really appreciate the travel funding provided by Ocean Carbon & Biogeochemistry for me. I have since given a short talk to my lab members and highly recommended the GRC to all of them.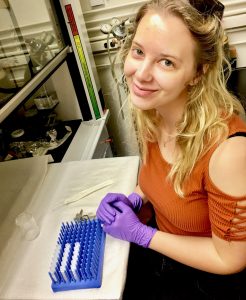 Plastic pollution is a problem that plagues the worlds' oceans. Microplastics, or plastic pieces <5mm in size, are of particular concern given their bioavailability to organisms at lower trophic levels. Kassandra Dudek is a third year PhD student in Environmental Life Science at Arizona State University studying how  chemical properties (e.g., sorption of organic contaminants such as pesticides or or de-sorption of additives such as flame-retardants) of different types of microplastics (or polymer types, denoted as "plastic 1-6" on our consumer products) influence the succession of its biofilm, degradation, and ultimate fate in the water column.
The Gordon Research Conference was the most riveting, discussion-driven, and welcoming international conference I have ever attended in my graduate career. The casual nature of the conference gave me an opportunity to engage in meaningful scientific conversation, while also building my network and harnessing new friendships. While other international conferences felt intimidating, the GRC left me feeling comfortable and confident. I look forward to the opportunity to attend the next one!