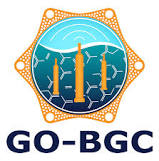 GO-BGC Webinar #4, February 15
Observing Mesoscale and Sub-Mesoscale Processes with BGC Argo
Please join us for the quarterly GO-BGC webinar, hosted by the US Ocean Carbon and Biogeochemistry Project Office. This webinar will be focused on using BGC-Argo float data to investigate chemical and biological processes in the ocean that are influenced by eddies, meanders, and other mesoscale and sub-mesoscale processes. The webinar will begin with an update on the status of the GO-BGC float array, followed by two short presentations. We'll then close with a community discussion about recommended practices, challenges, and future perspectives of using BGC-Argo measurements to enhance our understanding of how mesoscale processes shape patterns of biogeochemistry in marine environments. Recordings will be available on the OCB and GO-BGC websites.
Agenda for February 15, 10 AM Pacific / 1 PM Eastern
Yui Takeshita (Monterey Bay Aquarium Research Institute, USA)
An update on the GO-BGC program
Lily Dove (California Institute of Technology, USA)
Topic: Using Argo floats and Seagliders to examine the effects of sub-mesoscale processes on Southern Ocean ventilation
Title: Investigating Ventilation at the Submesoscale in the Southern Ocean
Shuangling Chen (Second Institute of Oceanography, Ministry of Natural Resources, Hangzhou, China)
Topic: Using BGC Argo floats to examine episodic subduction patches associated with mesoscale eddies in the western North Pacific
Title: Episodic oxygen injections observed from BGC-Argo
Discussion
Register for February 15 webinar
Organizers
Yui Takeshita, MBARI
Alison Gray, U. Washington
Yibin Huang, NOAA PMEL
Channing Prend, SIO
Jonathan Sharp, NOAA PMEL
Lynne Talley, SIO
OCB Project Office – Heather Benway, Mai Maheigan, Mary Zawoysky